Public Input Needed on Projects Submitted for Federal Funding
Changes to a portion of Leavenworth Street to accommodate bike lanes and a corridor study for a section of 24th Street in Omaha are projects being considered for two types of federal transportation funding allocated by the Omaha-Council Bluffs Metropolitan Area Planning Agency. These projects are available now for public comment until May 30, 2019.
The City of Omaha is requesting $802,400 in funding from MAPA's Transportation Alternatives Program (TAP) as part of a $1,003,000 project to reconfigure Leavenworth Street between 7th and 13th Streets. Along this stretch of roadway, the street would change from four to two vehicle lanes with bike lanes added. Grading, drainage, traffic signal modifications and curb extensions are additional improvements planned.
The City of Omaha also is requesting a $100,000 Heartland 2050 mini-grant to conduct a corridor study along 24th Street from Mason to Cass Streets with some additions on 25th Street and 24th Avenue.  The study would focus on improvements to support transit, biking and walking.  The total project cost is $125,055.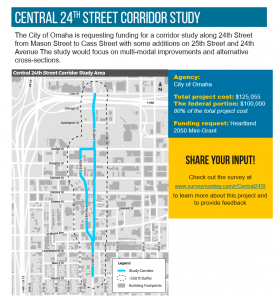 Heartland 2050 mini-grants award federal Surface Transportation Block Grant (STBG) funding for projects that align with the goals of Heartland 2050's Close the Gap initiative. Close the Gap aims to coordinate land use and transit to help "close the gap" in educational attainment, access to jobs, health care and the distance between flourishing neighborhoods/communities. The result is a region that is more walkable, livable and healthy, as well as more vibrant economically.
Surveys to provide feedback on each project are available online.
Complete the survey for the Leavenworth Street project at www.surveymonkey.com/r/LeavenworthSt .
Find the Central 24th Street Corridor Study survey at www.surveymonkey.com/r/Central24St.
Heartland 2050 is a coordinated planning effort for the Omaha-Council Bluffs metropolitan area. It includes Douglas, Sarpy and Washington Counties in Nebraska; Pottawattamie and Mills Counties in Iowa.