Civil Rights
The MAPA transportation planning process implements the three Cs of transportation planning – Continuing, Cooperative, and Comprehensive planning – to involve residents in the planning process in an ongoing and inclusive manner. In 2021, MAPA created a new Civil Rights Policy and Procedure Document (available below) which includes Title VI  – The Civil Rights Act of 1964, and the Americans with Disabilities Act (ADA) in all of its planning entities.
FY2022-25 MAPA Civil Rights Policy (Link):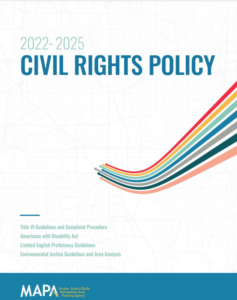 Title VI
MAPA assures that no person shall on the grounds of race, color, national origin, age, disability/handicap or sex, as provided by Title VI of the Civil Rights Act of 1964, and the Civil Rights Restoration Act of 1987 (P.L. 100.259) be excluded from participation in, be denied the benefits of, or be otherwise subjected to discrimination under any program or activity receiving Federal financial assistance. MAPA further assures every effort will be made to ensure nondiscrimination in all of its
programs and activities, whether those programs and activities are federally funded or not.
Americans with Disabilities Act (ADA)
Under the ADA all reasonable accommodations must be made for persons with disabilities to participate in all public activities and the planning process.
Other required considerations include:
The Rehabilitation Act
The Federal-Aid Highway Act
The Age of Discrimination Act
The Civil Rights Restoration Act
Executive Order 12250
Executive Order 12898
Executive Order 13166
Executive Order 13985
Commitment to Equity
In June 2020, the MAPA Board of Directors adopted an Equity Resolution in order to increase equitable outcomes in our region through MAPA's work. This resolution reaffirms the agency's commitment to an equitable and just region, and ensures that the issues of disparities, justice and racism are at the forefront as we work to do more with greater intensity and focus to realize the goal of expanding true opportunity to all residents.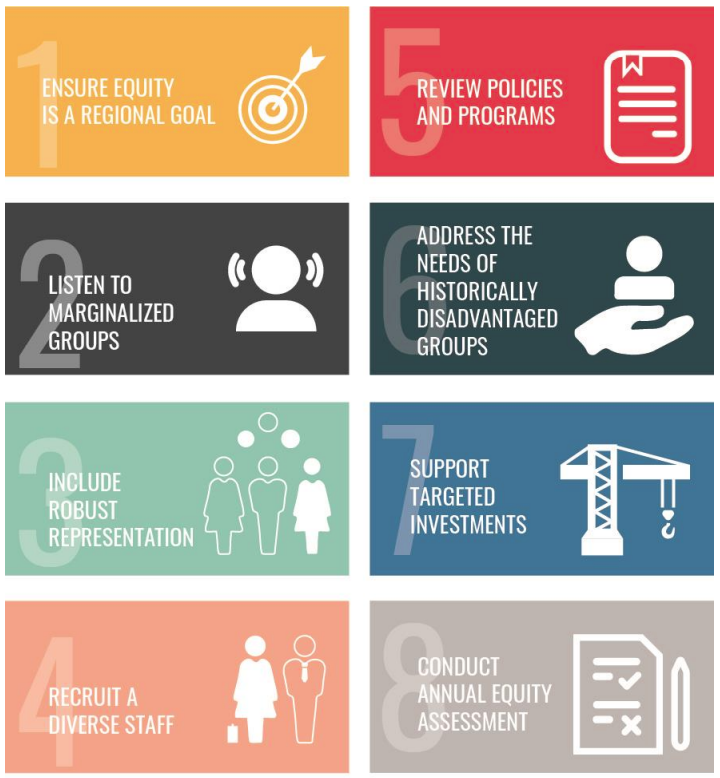 Civil Rights Accommodations
Specific accommodation policies stating how regulations are implemented are discussed throughout the plan and MAPA's Title VI Policy Statement is also detailed in document.
Complaint Form
Complaint forms for Title VI Non-Discrimination violations can be found here and sent to the following address:
Title VI Coordinator
Omaha-Council Bluffs Metropolitan Area Planning Agency
2222 Cuming Street
Omaha, NE 68102