MAPA Council of Officials Annual Meeting
MAPA celebrates its 50th Anniversary at its Council of Officials Annual Meeting on Oct. 4 in the North Ballroom of the Livestock Exchange Building, 4920 S. 30th St., Omaha, Nebraska.
We'd like to thank our sponsors for helping us bring keynote speaker Mayor Mick Cornett of Oklahoma City to town.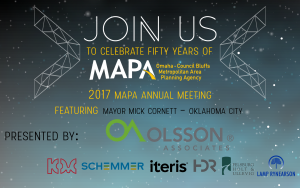 Olsson Associates  HDR  Felsburg Holt & Ullevig  Lamp Rynearson
iteris  Kirkham Michael  Schemmer
Mayor Mick Cornett is in the final months of a successful 14-year run as Oklahoma City's first four-term mayor.
His leadership has been instrumental in the "Oklahoma City Renaissance," one of the most remarkable
transformations in American history. Mayor Cornett has been a strong champion for infrastructure investments
that have transformed the region.
His priorities have included improving standards in health and education, and he has worked to change the culture
of the community in those important areas.
The MAPA Council of Officials Annual Meeting begins at 7:30 p.m. on Oct. 4.