Transforming the former Dana College Campus
Transformation Hill on the former Dana College Campus continues to evolve thanks to the Omaha-Council Bluffs Metropolitan Area Planning Agency (MAPA), the City of Blair, the Midwest Housing Development Fund and Angels Share Incorporated.
Five speculative houses, designated as workforce housing, are being built at Transformation Hill. Eriksen Construction is currently framing the houses. They should be complete later this year. Each of the houses is expected to sell for approximately $240,000.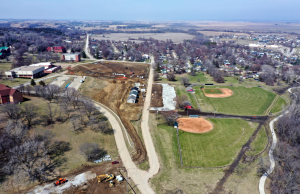 These houses address a need recognized by the Blair Citizens Housing Task Force. A year-and-a-half ago the task force asked the city council to find ways to resolve the need for housing, help grow its workforce, retain existing employees and attract young talent.
In May 2018, the Nebraska Department of Economic Development (DED) awarded the MAPA Foundation and the City of Blair a $351,000 grant from the Nebraska Rural Workforce Housing Fund. The Nebraska Investment Finance Authority (NIFA) also awarded a $250,000 grant.  MAPA is now administering a revolving loan fund of $977,000 to build the new housing.
The Nebraska Affordable Housing Trust Fund (NAHTF) also just awarded the MAPA Foundation $450,000 for the Dana Suites Project, located at 2832 Hansen Drive in Blair.
The Dana Suites Project involves the renovation of a former dormitory into a 12-unit, 2-bedroom apartment complex. The project is estimated to cost $809,000. Angels Share Inc. is working on a program to occupy that space. It would provide both housing and workforce skills for children aging out of foster care.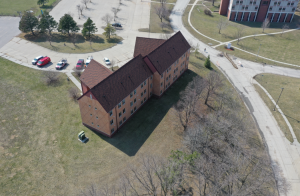 Rod Storm, Blair City Administrator said, "The city would like to thank MAPA for working with Angels Share Inc. and taking the lead on the funding grant for the Dana Suites. This project will hopefully provide interim workforce housing for individuals to get training that will supplement the local workforce and allow those individuals to transition into home ownership in the community in a couple of years."
The City of Blair and Angels Share Inc. are also developing a 30-lot area for future workforce housing.  Each of these houses is expected to have an approximate market value of $220,000. Construction on the first houses in this area should begin later this fall.
MAPA planners are available to assist cities and counties with community and economic development needs.  To find out more contact Don Gross, MAPA Community and Economic Development Manager at dgross@mapacog.org or 402-444-6866, ext. 230.