Safe Streets & Roads for All Requests for Qualifications (RFQs)
The Omaha-Council Bluffs Metropolitan Area Planning Agency (MAPA) is issuing two Requests for Qualifications (RFQ) for its Safe Streets & Roads for All (SS4A) project: the Data Support Plan RFQ and the Public Outreach and Comprehensive Safety Action Plan RFQ.
Figure 1. MAPA SS4A Study Area and Associated Local Road Network (https://arcg.is/1SavCf)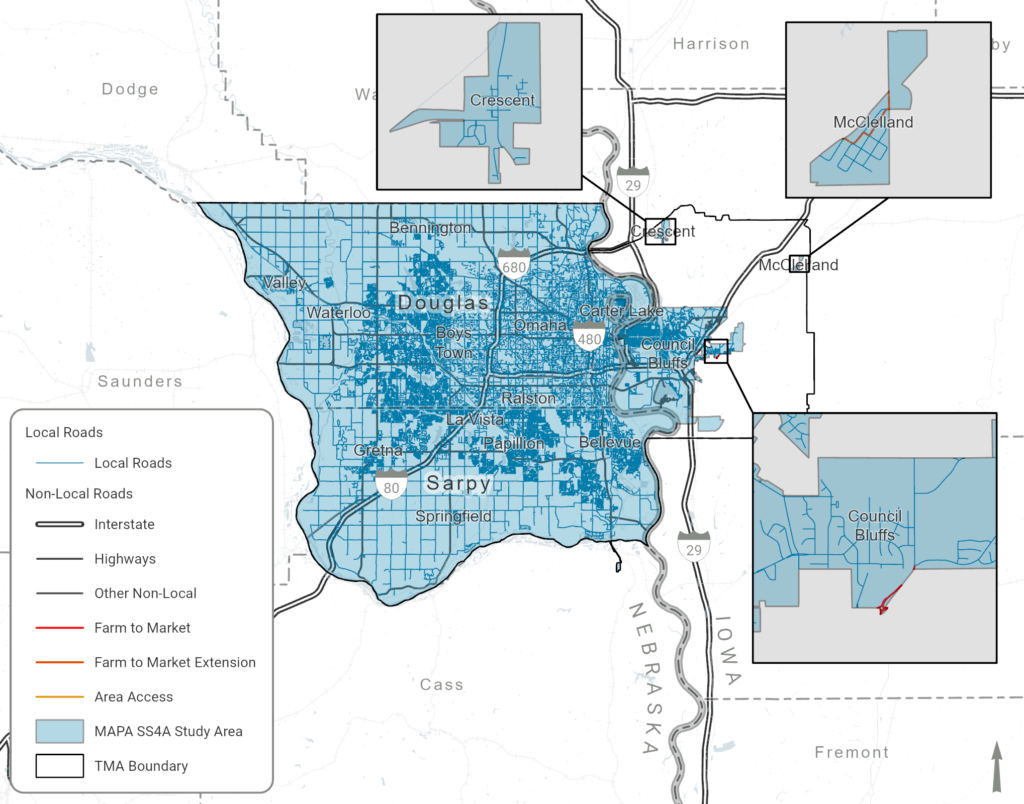 The SS4A Data Support Plan will support efforts in the development of MAPA's Regional Comprehensive Safety Action Plan (CSAP), which will build on MAPA's current safety planning efforts to achieve zero roadway deaths by 2040.
MAPA's SS4A Comprehensive Safety Action Plan will include a substantial public outreach component and will prioritize strategies that maximize opportunities for discretionary funding to implement local roadway projects in rural and disadvantaged communities.
Consulting firms are invited to submit a statement of qualifications for accomplishing the work items described under the Scope of Services for each RFQ.
Requests for Qualifications: 
SS4A Data Support RFQ – Public V1
SS4A Public Outreach CSAP RFQ – Public V1
The RFQs are available at mapacog.org/projects/rfpsrfqs/ also.
Proposals for both RFQs must be submitted to MAPA by 4:30 p.m. CDT October 18, 2023.