TAP & Heartland 2050 mini-grant proposed projects
Every fall MAPA issues a call for projects for the Transportation Alternatives Program (TAP) and the Heartland 2050 mini-grant program.
The Transportation Alternatives Program provides federal funding for projects which increase bicycle, pedestrian and transit access.  The Heartland 2050 mini-grant program is funded through a small portion of the federal Surface Transportation Block Grant (STBG) dollars that MAPA receives for transportation-related projects.
MAPA is considering six local projects for TAP and Heartland 2050 mini-grant funding.   Please review the project descriptions and maps on the images below.  The names of each project contain links to a surveys where you can share your comments about the projects.  Comments are being accepted until 4:30 p.m. April 17, 2020.
North Downtown Pedestrian Bridge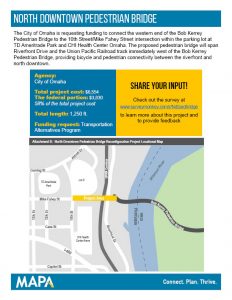 Neighborhood Expanded Access to Trails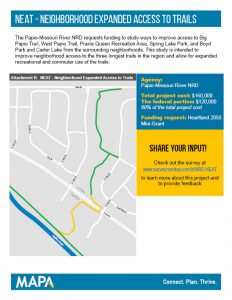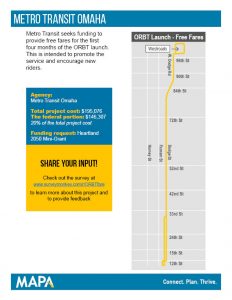 Southside Terrace-Indian Hills Transportation Study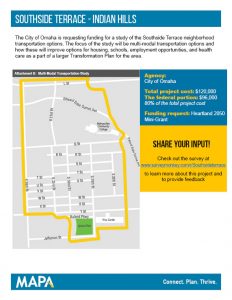 Schram Road Spur N-370 Undercrossing & Trail Segment