Shukert receives MAPA's Award of Merit
MAPA presented Marty Shukert, RDG Planning and Design Principal and a former Omaha Planning Director, with the agency's Award of Merit at its Dec. 12 Council of Officials meeting.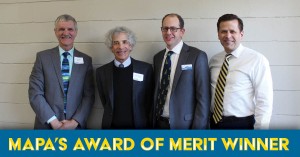 (Pictured L-R: Douglas County Commissioner Clare Duda, MAPA Council of Officials President; Marty Shukert, RDG Planning and Design Principal; Greg Youell, MAPA Executive Director and Omaha City Councilmember Pete Festersen, MAPA Board member.)
The Award of Merit is MAPA's highest award.
As a City of Omaha planning department employee in the 1970s, Shukert worked on planning for North and South Omaha on projects like the Conestga Plan, Kellom Heights and the Benson streetscape plan, which was the first of its kind at the time.
As a former City of Omaha Planning Director, some of Shukert's major work focused on the renaissance of downtown Omaha, such as the completion of the Gene Leahy Mall, the 16th Street Mall, the ConAgra campus and residential redevelopment projects including the McKesson Robbins building, now known as the Greenhouse.  Marty also oversaw the development of Omaha's current system for Tax-Increment Financing (TIF) and Community Development Block Grants (CDBG) to finance urban residential and commercials projects.
In 1989, Shukert left the city for RDG Planning and Design. Some of his notable work includes Joslyn Castle, Dundee, South Omaha Streetscape, Park Avenue, as well as projects for Council Bluffs, Ralston, Sarpy County, Papillion, Bellevue and LaVista's City Center Master Plan.  His work has spanned from North Dakota to Texas and from Wyoming to Indiana, including many state trail plans that have been implemented.
"Marty worked tirelessly for North and South Omaha neighborhoods and through his leadership and his vision at the City of Omaha, he helped foster the renaissance of downtown Omaha.  At RDG, his ongoing planning work continues to touch nearly every corner of the region," said Greg Youell, MAPA Executive Director.
An avid cyclist, Shukert is recognized as a vigorous advocate for urban design and bike/pedestrian interests in Omaha and the Midwest region.
Congratulations, Marty!