Spiehs receives 40 Under 40 Award
Congratulations to MAPA Community Relations Manager Jeff Spiehs who is a recipient of the Midlands Business Journal's 40 Under 40 Award!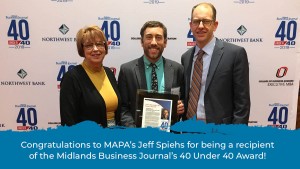 Jeff (center) pictured above with Karna Loewenstein, Communications and Outreach Manager, and Greg Youell, MAPA Executive Director, is a lead architect of the Heartland 2050 Regional Vision and has led public engagement efforts including immersive, experiential community events to raise awareness of land use.  He also fills many extracurricular leadership roles.  Jeff is an advisory board member for inCOMMON Community Development and is a past president of the South Omaha Neighborhood Alliance (SONA). He's also served as chairman for ONE Omaha, the United Way Community Investment Review Team and the Public Policy and Engagement Committee of the Greater Omaha Young Professionals Council.  He was a member of Leadership Omaha Class 39 too.on this much-deserved award and thank him for all his work on behalf MAPA!
Congratulations on this much-deserved recognition and thank you for all the work you do on behalf of MAPA!