Introducing MAPA's next Executive Director!
The Omaha-Council Bluffs Metropolitan Area Planning Agency (MAPA) has a new leader, and he is a familiar face to the agency's member communities and local elected officials.
MAPA's Board of Directors voted at its monthly meeting July 22 to hire Michael Helgerson, MAPA's Transportation & Data Manager, as the agency's next Executive Director.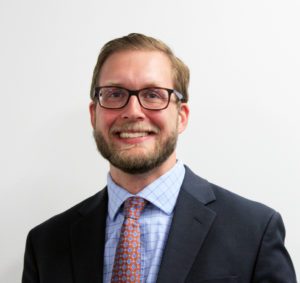 Helgerson, 34, began his career at MAPA in March 2013 as a Transportation Planner.  He succeeds Greg Youell as Executive Director, who left the agency for a position with Spirit Catholic Radio Network.
In his most recent position, Helgerson led a team of transportation planning professionals and has been responsible for several critical projects at MAPA.
These include the launch of the Regional Development Report, which leverages building permit data from local governments to track regional growth and the 2050 Long Range Transportation Plan, which implements the priorities of the Metro Travel Improvement Study with ongoing ConnectGO planning efforts. Helgerson is also leading a MAPA study planning a new Interstate 80 interchange in Sarpy County near 192nd Street.
"Mike's work embodies the values of service and responsiveness to the needs of MAPA members," said LaVista Mayor Doug Kindig, MAPA Board of Directors Chair. "He has demonstrated his capacity to lead complex efforts which advance MAPA's mission, cultivate the technical expertise of MAPA staff and increase the agency's financial capacity to serve its members and the region."
Prior to his employment at MAPA, Helgerson worked as a grant specialist for the NASA Nebraska Space Consortium in Omaha and as a disaster recovery coordinator for the Southern Iowa Council of Governments in Creston, Iowa.
He earned a Master's degree in Public Administration from the University of Nebraska Omaha and a Bachelor's degree in Community and Regional Planning from Iowa State University.
"I am very excited for this opportunity. There is a lot of change and growth occurring in the region as communities recover from the COVID-19 pandemic and move toward building a more equitable future for all," said Helgerson.  "I look forward to learning more about ways MAPA can assist communities in the Omaha-Council Bluffs region and moving our work forward through regional leadership and collaboration."
Helgerson assumed the duties of Executive Director effective July 26, 2021.
He and his wife, Lauren, reside in Omaha with their three children.