ConnectGO Getting to Work Report Released
Employees in the Omaha-Council Bluffs metro want choices in how they commute to work during the week.  That's a key finding in the ConnectGO Getting to Work Report just released.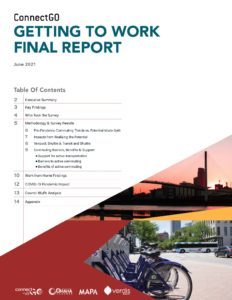 The survey is a collaboration between the Greater Omaha Chamber and Metropolitan Area Planning Agency (MAPA) with services provided by Verdis Group.  More than 4,000 employees from more than 20 organizations were surveyed representing an employee population of more than 15,800 people in Omaha and Council Bluffs.
The survey asked employees across the metro area how they got to work before the pandemic, how they are getting to work during the pandemic and how they would prefer to get to work in the future if provided a variety of resources and strategies that support active commuting and working from home.  Active commuting includes, but is not limited to, taking transit, bicycling, carpooling and walking.
Some examples of supportive resources include free transit passes provided by employers and access to transit routes and free Heartland Bcycle passes and appropriate infrastructure such as protected bike lanes.
Overall results present an exciting opportunity: Surveyed employers could shift 17% of pre-pandemic trips where employees are driving to work by themselves to active commuting and working from home if supportive resources and strategies are provided. Factor in the acceptance of a work from home hybrid culture due to the COVID-19 pandemic and employers could reduce 9% of the trips employees make by driving alone to work.
The ConnectGO Getting to Work Report also found that transportation barriers are preventing job candidates from joining some of the surveyed organizations. These organizations reported that potential job candidates cited lack of access to a car as a barrier.
ConnectGO is an initiative of the Greater Omaha Chamber, Metro Smart Cities, and MAPA.
MAPA's work in Travel Demand Management extends beyond ConnectGO.  The agency also established and operates Metro! Rideshare, a free software program designed to connect people in the Omaha-Council Bluffs region that are interested in carpooling.
MAPA also supports the Nebraska Department of Transportation's (NDOT) Enterprise Vanpool Program.  In this mode of public transportation, a group of commuters who agree to share their ride to work  pay a low, monthly fee to commute together in a vehicle large enough to accommodate a minimum of seven people.  A member of the vanpool is the driver.  The NDOT contracts with Enterprise Rideshare who supplies and maintains vehicles and provides administrative support for the program.
MAPA's Travel Demand Management programs and the ConnectGO Getting to Work Report are integral to the agency's work for Little Steps Cleaner Air, MAPA's air quality awareness and education campaign.  Using active transportation is one of the "little steps" which help reduce ground-level ozone concentrations, a key pollutant of concern in the Omaha-Council Bluffs metro area.
Through Little Steps Cleaner Air and Heartland 2050, work is moving forward to create a Clean Air Action Plan, which will serve as a blueprint to guide efforts among key businesses and governmental agencies to improve air quality in the region.