2023 MAPA Annual Awards announced at Annual COO Meeting
A champion for regional trail connections and a Malvern organization with a mission to build a strong community for all ages were recognized for their work by the Omaha-Council Bluffs Metropolitan Area Planning Agency (MAPA) at its annual Council of Officials meeting Wednesday evening in Papillion, Nebraska.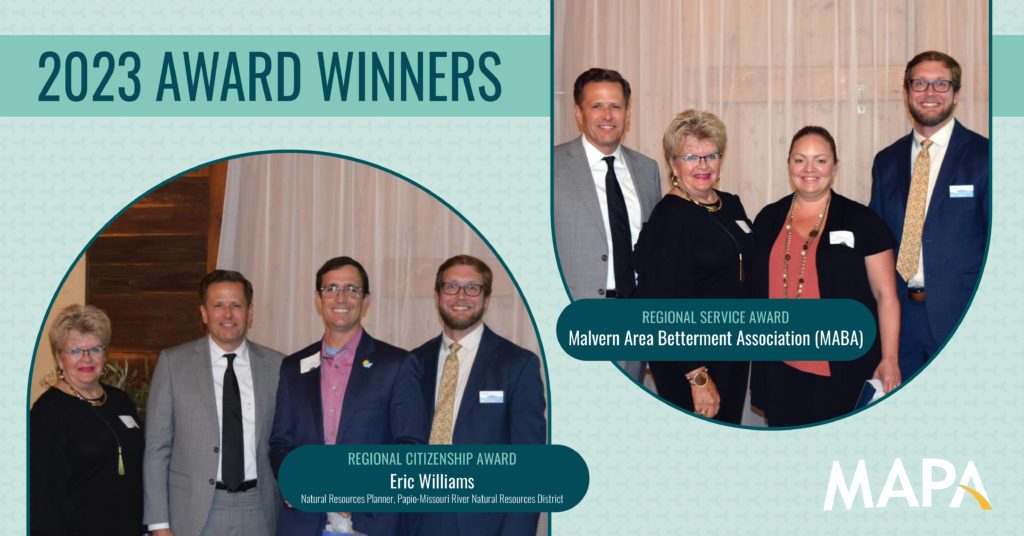 Eric Williams, Natural Resources Planner for the Papio-Missouri River Natural Resources District (NRD) and Omaha Public Power District Board of Directors Chair, received the MAPA's 2023 Regional Citizenship Award while the Malvern Area Betterment Association (MABA) received MAPA's 2023 Regional Service Award. 
The Regional Citizenship Award honors an individual who recognized regional problems and initiated and supported policies which required a shared regional effort and contributed to the region's quality of life.
In his role at the Papio-Missouri River Natural Resources District, Williams has led the design and construction of major trail projects including the Western Douglas County Trail and multiple phases of both the West Papio Trail and Beltline Trail, plus restoration of the Lied Bridge and MoPac Trail after significant flood damage in 2019.
He also led the project to ensure the Highway 34/75 bridge between Sarpy and Cass County maintained a bicycle-pedestrian connection and was instrumental in securing a federal grant for the future construction of a bike and pedestrian bridge across the Elkhorn River.
The Regional Service Award is given to groups that have contributed to the metropolitan area to help improve or grow it.
Malvern Area Betterment Association (MABA) operates with the mission of building a strong community for all ages through creative projects, programs, and partnerships. MABA's focus includes community development and beautification, volunteerism and civic engagement, educational programing, cultivation of partnerships, and creation of cultural and family-friendly events.
 "The Malvern Area Betterment Association is a model of civic engagement within the MAPA region," said Mike Helgerson, MAPA Executive Director. "It brings a broad range of skills, expertise and energy to projects to build a more livable Malvern, making the city a vibrant destination in southwest Iowa."
MAPA is the regional planning agency serving six counties including Cass, Douglas, Sarpy and Washington Counties in Nebraska, and Mills and Pottawattamie Counties in Iowa. MAPA exists to provide local governments with planning and technical support, thinking regionally and long range on the core issues that impact the vibrancy of the Greater Omaha-Council Bluffs area.