13th Street Revitalization Project
Traveling along 13th Street in Omaha, just south of downtown, it is difficult not to notice the work underway to revitalize the area. Part of the efforts being considered include implementing changes to draw more businesses and people by improving the walkability and increasing the access for pedestrians and bicyclists.
Headed by PJ Morgan Real Estate, the 13th Street revival aims to create a lively community and friendlier streets for the public. New development will focus in the area on 13th Street stretching from Interstate 480 to Interstate 80 in South Omaha –  and includes the neighborhoods commonly known as Little Bohemia and Little Italy. In addition, this revitalization project will examine areas in the Old Market and in Downtown Omaha.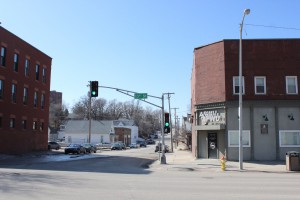 The current 13th Street design acts as a path to get people to other locations rather than being a destination spot. Along with redevelopment, another focus is dedicated to analyzing current traffic conditions and providing solutions to help reduce traffic speed to create a safer, more walkable place for pedestrians and bicyclists.
MAPA's Heartland 2050 regional visioning project awarded a $100,000 mini-grant for the City of Omaha's 13th Street Walkability Study. The Walkability Study will analyze different methods to slow down traffic and determine how to best utilize existing right-of-way to accommodate all users including automobiles, transit, bicycles and on-street parking. The Heartland 2050 mini-grant, plus a $25,000 investment from the City of Omaha, will support the work and momentum on 13th Street to offer viable options to increase the economic vitality.
As a part of the Walkability Study, MAPA will host three "Block Talks" in April. The "Block Talks" give residents an opportunity to walk a designated route within the community to evaluate pathways that either increase or decrease opportunities for walking. The "Block Talks" span across the different sectors of 13th Street's scope – Downtown, Dahlman and Deer Park neighborhoods. The "Block Talk" dates are:
Downtown: April 18

th

Dahlman Park: April 20

th

Deer Park: April 27

th

 
All "Block Talk" sessions will begin with a short 20 minute presentation and overview of the project, to be followed by a walk around the area and will conclude with action planning to create short and long term priorities to improve walkability.
One major hope resulting from the Walkability Plan and Revitalization Plan is to develop 13th Street as an extension of Downtown Omaha. The idea is that 13th Street will have a continuous neighborhood flow from Downtown to I-80.
Another partner, Olsson Associates, is creating a Public Involvement Plan and conducting a Technical Study of the area. The Technical Study will examine traffic data such as crash data, traffic functionality, sidewalk improvements and traffic signals. One goal is to create a more robust community that promotes more foot traffic and will slow down the current speed of traffic flowing through the area. South 13th Street runs through one of Omaha's oldest neighborhoods. The revitalization plan has seen some success already. New businesses will be locating to the area – including Omaha Creative Institute, Grain & Mortar, Boho Rice, Vincent Outfitting Co., Archetype Coffee, a barber shop, a salon and a bar.
Anyone who wants to participate in the "Block Talks" can contact Jeff Spiehs at jspiehs@mapacog.org.  
If you want to read more of PJ Morgan's updates on the 13th Street progress, visit: pjmorgan.com/love-for-little-bohemia/