2016 Traffic Growth Report Shows 2% Increase
MAPA's 2016 Traffic Growth Report released recently shows the overall traffic growth rate in the Omaha-Council Bluffs metro region increased by two percent since the previous analysis in 2014. In conjunction with the Traffic Growth Reports, MAPA published a new interactive map online, http://traffic.mapacog.org/, to highlight significant traffic data in the metro region. This Traffic Data Portal is an ongoing MAPA initiative.
The 2016 Traffic Growth Report details the greatest increase of traffic in Northwest Douglas County, near the Bennington area, and in Southwest Sarpy County, from 156th Street to the County's western border. The average growth rate for traffic volume in Nebraska estimates an increase of 2% in Douglas County and 5% in Sarpy County. In Iowa, there is total of a 1% increase in Pottawattamie and Mills Counties.
The following map shows the overall increase of traffic volume in different parts of the metro area: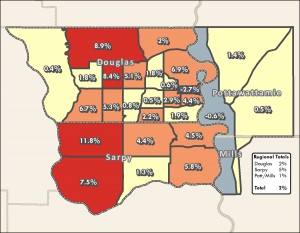 90th and Dodge remains the busiest intersection in the metro area, reaching 102,750 vehicles per weekday. 72nd and Dodge and 72nd and Pacific are the second and third-highest traveled intersections in the metro area respectively.
The Interstate 480/Kennedy Freeway and Interstate 80 interchange ranked as the top interchange in the metro region with the highest traffic volume, followed behind the interchanges of Interstate 680 and Interstate 80 and 72nd Street and Interstate 80. The busiest segment of Interstate 80 stretches from 42nd Street to the I-480 Interchange. The average number of miles traveled per day is 18,628,740 in MAPA's Transportation Management Area (TMA), which covers Douglas, Sarpy and a small portion of Cass County in Nebraska as well as western Pottawattamie County in Iowa.
The Traffic Data Portal was released with the Traffic Growth Reports, and will continue to be updated as more traffic information is recorded. It is an interactive map where users can click on traffic intersections for directional traffic volumes at each intersection leg as well as see the highest interchange volumes. All data collected for the Traffic Data Portal estimate the raw data from contributing jurisdictions.
To visit the interactive Traffic Data Portal, go to: http://traffic.mapacog.org/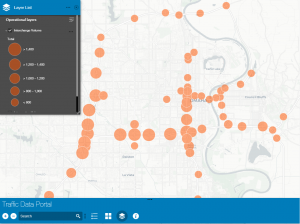 Traffic Growth Reports are published periodically as part of MAPA's efforts to monitor transportation in the Omaha-Council Bluffs metropolitan area. The 2016 Traffic Growth Reports provide a unique analysis of the change in vehicular traffic from a regional and sub-regional perspective. MAPA's traffic reports include: the Traffic Growth Report, Traffic Flow Map, Traffic Interchange Report and the Traffic Intersection Report.
To read more details of any of these studies, visit:  http://mapacog.org/reports/2016-metro-area-traffic-reports/