Ralston City Council approves Complete Streets policy
Ralston, Nebraska becomes the latest city in the Omaha-Council Bluffs metropolitan region to approve a Complete Streets policy. The Ralston City Council approved the policy on June 5. MAPA Transportation and Data Manager Mike Helgerson addressed the city council in the weeks leading up to the vote as part of the process.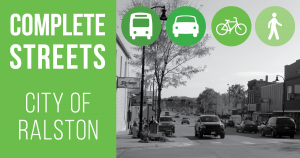 A complete street is a safe and convenient facility street for all modes of transportation, ages and abilities. Creating complete streets is a way to provide better access to transportation systems.
Under a complete streets policy, construction of a new roadway must provide safety and convenience for all modes of transportation, all ages and abilities and allow for pedestrian safety.
This policy allows Ralston officials to look at roadway projects, either new or those being renovated, to determine the need for a complete street. City staff will oversee official documents for compliance to the new ordinance and will make adjustments to relevant projects when needed.
Omaha and Bellevue passed Complete Streets policies in recent years also.
The City of Omaha is in the process of creating a complete streets design guide to help with future projects. The guide organizes the important needs of the community and determines who is responsible for what work. The guide is expected to be completed later this year.
The City of Bellevue has implemented complete street policies in projects. So far, the City put signage on a bike route on a low volume road in the community in addition to its bike infrastructure improvements which existed already.