MAPA leads Omaha StartUp Week tour
MAPA had a great opportunity during Omaha StartUp Week to lead the community track for the week of events. It included a walk, bike and bus tour of the Midtown, North Downtown and Downtown Omaha neighborhoods.
The tour began at Archetype near 40th and Farnam Streets in the Blackstone District.   Phil Anania, GreenSlate Development Marketing Director, highlighted recent development in the Blackstone neighborhood.
The group then walked to Midtown Crossing and, along the way, examined the types of sidewalk and street infrastructure which help create more walkable, pedestrian and bike-friendly communities.
Once at Midtown Crossing participants met with Ben Turner, the head of Heartland B-Cycle.
After Ben explained how the bike share system in the Omaha-Council Bluffs metro area works, the group checked out bikes from the station and rode through the Gifford Park neighborhood arriving eventually at Creighton University's Wareham Building.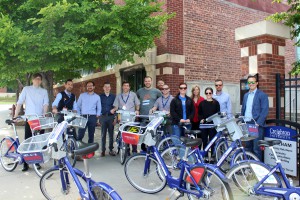 Christian Burk, Director of Software Engineering at Creighton University, explained how his team has undertaken a large project to consolidate the location of student information from 21 separate locations to one central location.
Burk said the project is an opportunity to incorporate more, lean startup methods into this educational institution.
The group then pedaled into Downtown Omaha, wrapping up the bike portion of the tour at the B-cycle station next to the Greater Omaha Chamber of Commerce building at 13th and Harney Streets.  The final portion of the tour included riding a Metro Transit bus from 14th and Farnam Streets back to 40th and Farnam Streets.
Evan Schweitz and Jason Rose from Metro Transit were on-board to provide background on bus operations and answer any questions for those who have never ridden the bus.
More walking, bus and bike tours are being planned in different parts of the city during the summer months.