MAPA Annual Awards Announced
A long-time public servant, a veteran law enforcement officer and a public works department that jumped into action to help residents after the June tornadoes were honored for their work by the Omaha-Council Bluffs Metropolitan Area Planning Agency's (MAPA) Council of Officials at its annual meeting Oct. 4 in at the Livestock Exchange Building in Omaha.
Retiring Council Bluffs Public Health Department Director Donn Dierks received MAPA's 2017 Regional Citizenship Award while MAPA awarded its 2017 Regional Service Award to the City of Bellevue Public Works Department.  Nebraska State Patrol Lieutenant Kevin Bridges received the agency's Award of Merit.
Council of Officials President Doug Kindig, MAPA Board of Directors Chair Rita Sanders and MAPA Executive Director Greg Youell presented the awards.
The Award of Merit is MAPA's highest award for service. Bridges, who has been with the Nebraska State Patrol for 33 years, manages the Metro Area Motorist Assist (MAMA) program and has been involved since its inception in 1997.  The program enlists dedicated volunteers who patrol the metro area's interstate systems during peak commuting hours offering assistance to motorists whose vehicles breakdown along the roadside.  More than 83,000 assists were conducted as of December 31, 2016 thanks to the program.
"For 20 years now through his involvement in the MAMA program, Lt. Bridges has helped improve safety for drivers in the metro area and has helped save money for taxpayers, by providing services for free that would normally be carried out by local law enforcement officers during their workdays," said Greg Youell, MAPA Executive Director.
The Regional Citizenship Award honors an individual who recognized regional problems and initiated and supported policies which require shared regional effort, and contributed to the region's quality of life.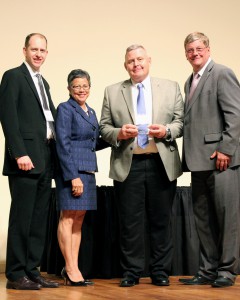 As the Council Bluffs Public Health Department Director, Donn Dierks has worked to expand health and human services for Council Bluffs residents during his 29 years with the department.  Among his many accomplishments, Dierks was instrumental in beginning drop-off recycling collection and securing the site of the Council Bluffs Recycling Center, now a regional hub for recycling and household hazardous materials collection.  He worked with the Board of Health to create the city's pit bull ban, which all but eliminated instances of severe dog bites in Council Bluffs.
The Regional Service Award is given to a group that has made a contribution to the metropolitan area to help improve or grow it.  In the aftermath of the June 2017 tornadoes, the City of Bellevue Public Works Department reacted quickly to stabilize the city's infrastructure, which allowed the Public Safety and Disaster Response Teams to access affected neighborhoods and assisted residents with the massive cleanup effort.