MAPA Annual Awards Announced
A leader in healthcare, an advocate for transportation access and a new regional authority designed to help a metro area county increase future growth and development were recognized for their work by the Omaha-Council Bluffs Metropolitan Area Planning Agency's (MAPA) Council of Officials at its annual meeting Oct. 3 in Council Bluffs.
Heartland Family Service Ways to Work Program Coordinator Lisa Picker received MAPA's 2018 Regional Citizenship Award while the University of Nebraska Medical Center/Nebraska Medicine and the Sarpy County and Sarpy Cities Wastewater Authority each received MAPA's Regional Service Award.
The Regional Citizenship Award honors an individual who recognized regional problems and initiated and supported policies which require shared regional effort, and contributed to the region's quality of life. 
Through her strong leadership as chair of MAPA's Coordinated Transit Committee, Picker has led the committee beyond administering transportation funding and into advocating for transportation access for the elderly, disabled and those without transportation, and has worked to encourage members to increase coordination of services and partnerships.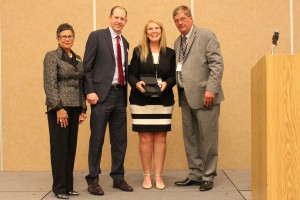 The Regional Service Award is given to groups that have made a contribution to the metropolitan area to help improve or grow it.
As one of the largest employers in the Omaha metro area, the University of Nebraska Medical Center/Nebraska Medicine (UNMC/NM) established itself as a community leader by creating sustainable solutions to transportation challenges in the metro area. Its TravelSmart program, implemented in 2015, encourages alternative modes of commuting by providing free tools and services that promote cycling, carpooling, busing and walking. TravelSmart has grown rapidly. By the fall of 2017, active commuting trips to campus jumped from 12 percent to 22 percent, helping UNMC/NM to save land and money, while promoting healthier commuting options.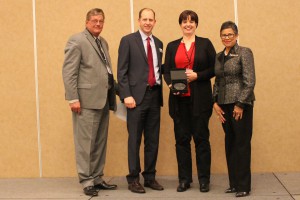 The Sarpy County and Sarpy Cities Wastewater Agency received a Regional Service Award for establishing a sewer system in southern Sarpy County to address a large barrier to future economic growth. To open the door to future development, Sarpy County and the Cities of Sarpy County established the wastewater agency, with legislative assistance, to build a new sanitary sewer system that operates south of the ridgeline within Sarpy County.  Development in southern Sarpy County, which includes nearly 60 percent of the land within the County, is estimated to generate $15 million per year in sales tax revenue for Sarpy Cities, $45 million per year in sales tax revenue for the State of Nebraska and $76 million per year in property tax revenue for schools.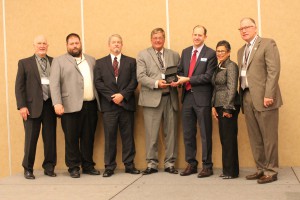 "The Wastewater Agency is a prime example of regional cooperation.  Five cities and the County joined together to address the need for a unified sanitary sewer system in southern Sarpy County. Each entity has a representative on the agency's board and an equal say in how the system moves forward," said Greg Youell, MAPA Executive Director.