Citizens' Academy Tours Transit System
Citizens' Academy for Omaha's Future is a curriculum designed for leaders to provide knowledge, skills and connections in order to strengthen the community. Participants learn how different values and decisions affect the cities in which we live. This is a crash-course on local government that includes information on planning, transportation, the development process, land use, and community health.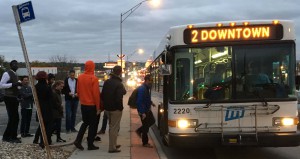 Participants of the Citizens' Academy for Omaha's Future met on October 26th to learn how transportation impacts the overall well-being of a community. They gained first-hand experience on how great transit-oriented design, walkability, and bike safety can affect the public and environment.
Citizens' Academy is for leaders from different neighborhoods, businesses and organizations. Every participant has a passion for the city's future and a desire for positive change.
Citizen' Academy for Omaha's Future is a joint project with Douglas County Health Department, Live Well Omaha, Omaha-Council Bluffs Metropolitan Area Planning Agency (MAPA), Midtown Neighborhood Alliance, Mode Shift Omaha, Omaha by Design, and ONE Omaha.